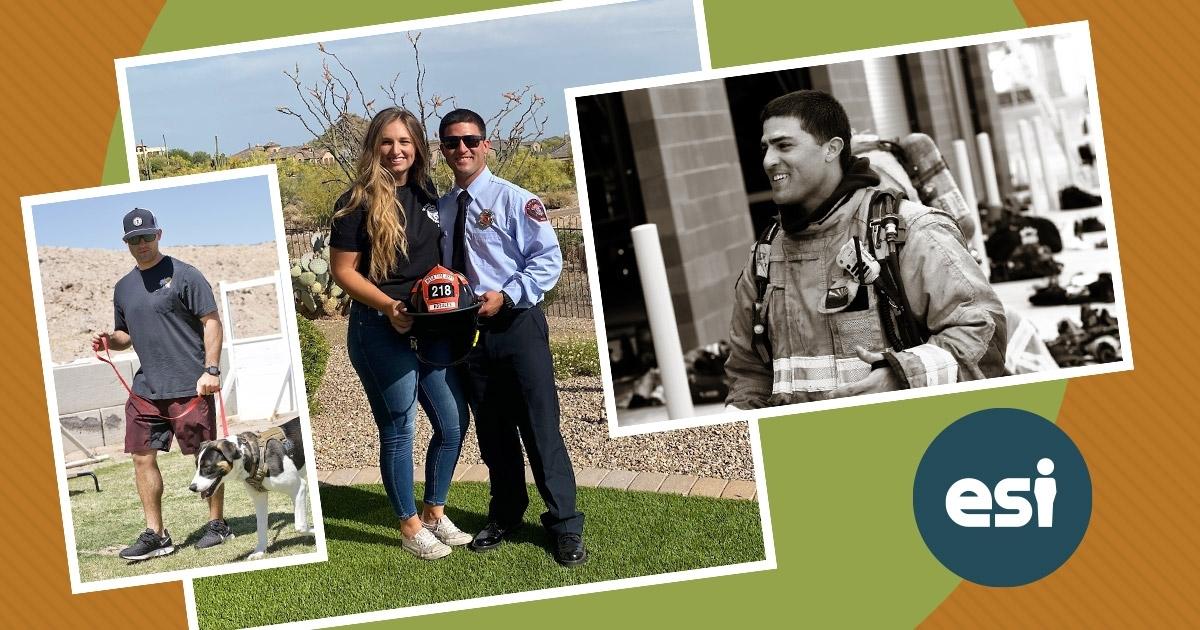 Justin Rosales works in two of the most high-stakes professions around:
firefighting and teaching.
As a firefighter and emergency medical technician (EMT) for the Mesa Fire & Medical Department, Justin saves lives during threatening situations. In the classroom, his influence can impact the entire trajectory of his students' futures.
The roles may seem different from the outside, but they both require the same type of skills. As a firefighter and EMT, Justin needs to quickly build rapport with people he's helping. These are people he's just met, who need to instantly trust Justin is working for their well-being and benefit. In the classroom as a substitute teacher for the Chandler Unified School District, mostly at Hamilton High School, Justin works to gain students' confidence.
Both worlds also offer a constant stream of new challenges and excitement. Like the collaboration that's required with his firefighting squad, at school, Justin is on a team of teachers and athletic coaches, all working for the greater good. ESI is lucky to count Justin as one of its extraordinary substitutes. For Justin, his presence in the community is all too familiar….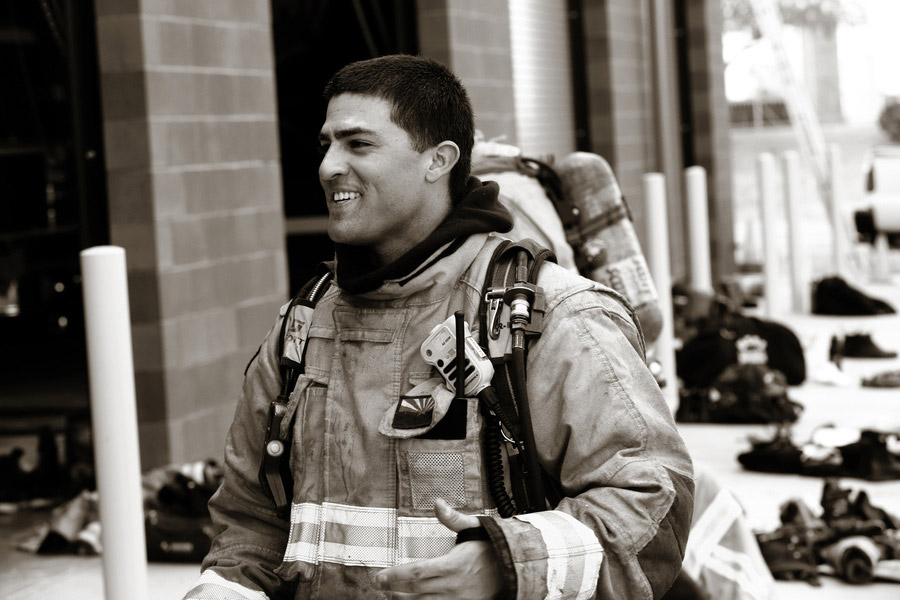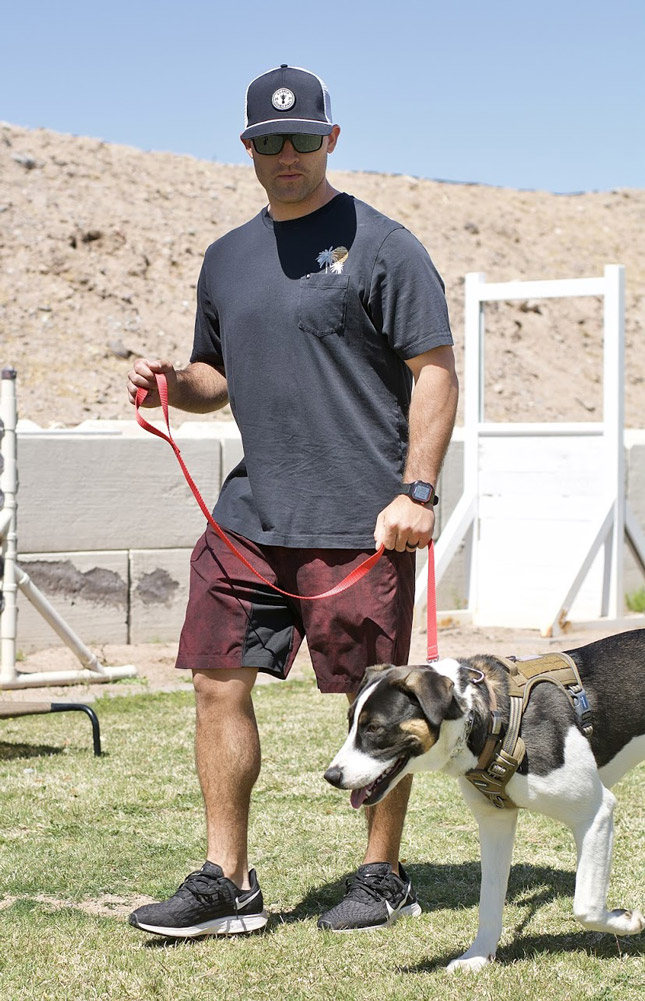 Classroom Déjà Vu
Justin was in the same seat as his Hamilton High School students just 12 years ago. The 2009 Hamilton High School graduate has quickly become a welcome fixture at the school, both as an enthusiastic and encouraging substitute teacher in the classroom, and as a volunteer baseball coach with the boys' team. (Along with several other firefighters on the Hamilton baseball staff!)
Back then, he thrived on athletic fields, playing football and baseball. His skills enabled him to play two years of baseball at Chandler-Gilbert Community College, before he headed to Colorado Mesa University in Grand Junction, Colorado, to continue playing as an infielder.
Justin graduated with a degree in kinesiology, but after college, he wasn't sure where to head on his career path. After returning to his home in Chandler (his family's presence in the area dates back to his grandparents attending Chandler High School), he decided to give substitute teaching a try as an in-the-meantime job while he figured out his next move.
Teaching is in Justin's blood. His mom was a teacher for 33 years at Hartford Sylvia Encinas Elementary in Chandler.
His old coaches at Hamilton High School also invited him back to coach baseball. He quickly started subbing there, too, rejoining many of his former teachers and administration members on the staff.
Justin also did some football coaching at Hamilton with his former coach Mark Tucker, a former National Football League player and Phoenix Fire Department firefighter. Mark was a mentor to Justin, encouraging him to consider what he wanted from life and what kind of profession could help him achieve his dreams. Firefighting seemed like a natural fit.
"He said, 'I think you'd be great in this field. I think you should go for it,'" says Justin. "The rest is history."
Becoming an EMT and firefighter is a lengthy process that requires extensive training and passing several exams. It took Justin three-and-a-half years to become certified. In the meantime, he continued subbing high school classes and coaching.
Now that he's a full-time firefighter, Justin's schedule gives him several days off in a row as a break from the grueling 24-hours on, 24-hours off emergency schedule he works. When he has weekdays off and has the energy to be in the classroom, he enlists as a sub for classes in subjects ranging from health to physical education and other topics in-between.
"Talk to the Kid in the Corner"
As a young teacher, Justin uniquely relates to his students, especially student-athletes and the rigorous demands they face. He approaches substitute teaching as a way to inspire and connect with students, not simply fill in a spot on a teacher's schedule.
"I like to interact with the kids as much as I can and not just shoo them away and tell them to be quiet," Justin says. "It's been a blast going back, especially to somewhere you went. You can almost tell the kids, 'You know, I was in your shoes not too long ago.' It's fun, you can relate to them on that basis.
"I usually like to try to see if there's anybody in any clubs or any sports," Justin continues. "You get a bunch of kids that raise their hand and then you go talk to them about it."
Justin says with the athletes he coaches, he encourages them to branch away from cliques and embrace connections with diverse students.
"I tell my players, 'Hey, your baseball friends are your baseball friends, but there are other people out there,'" Justin says. "'Go talk to the kid in the corner. You don't know what that person is going through.'"
Justin applies that same inclusive approach to his teaching, aiming to make every substitute session he leads one that's interesting and fun for students. His experience as a sub also includes teaching a full year of sports medicine at Casteel High School, as well as subbing for Santan Junior High.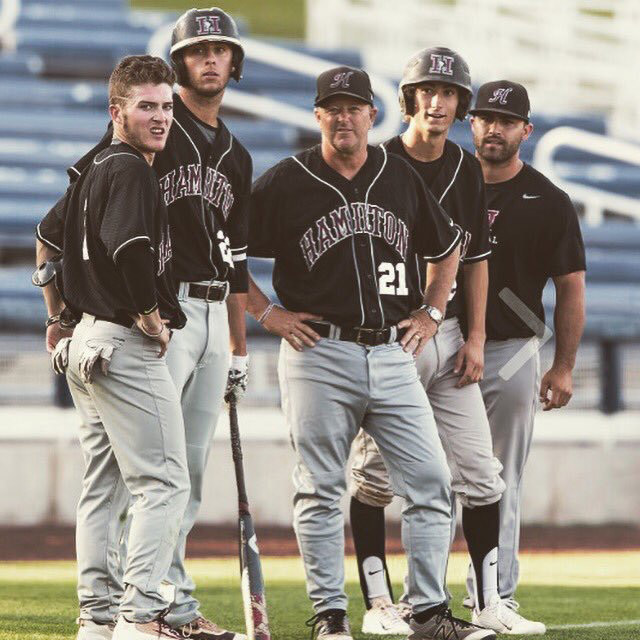 "Go talk to the kid in the corner. You don't know what that person is going through."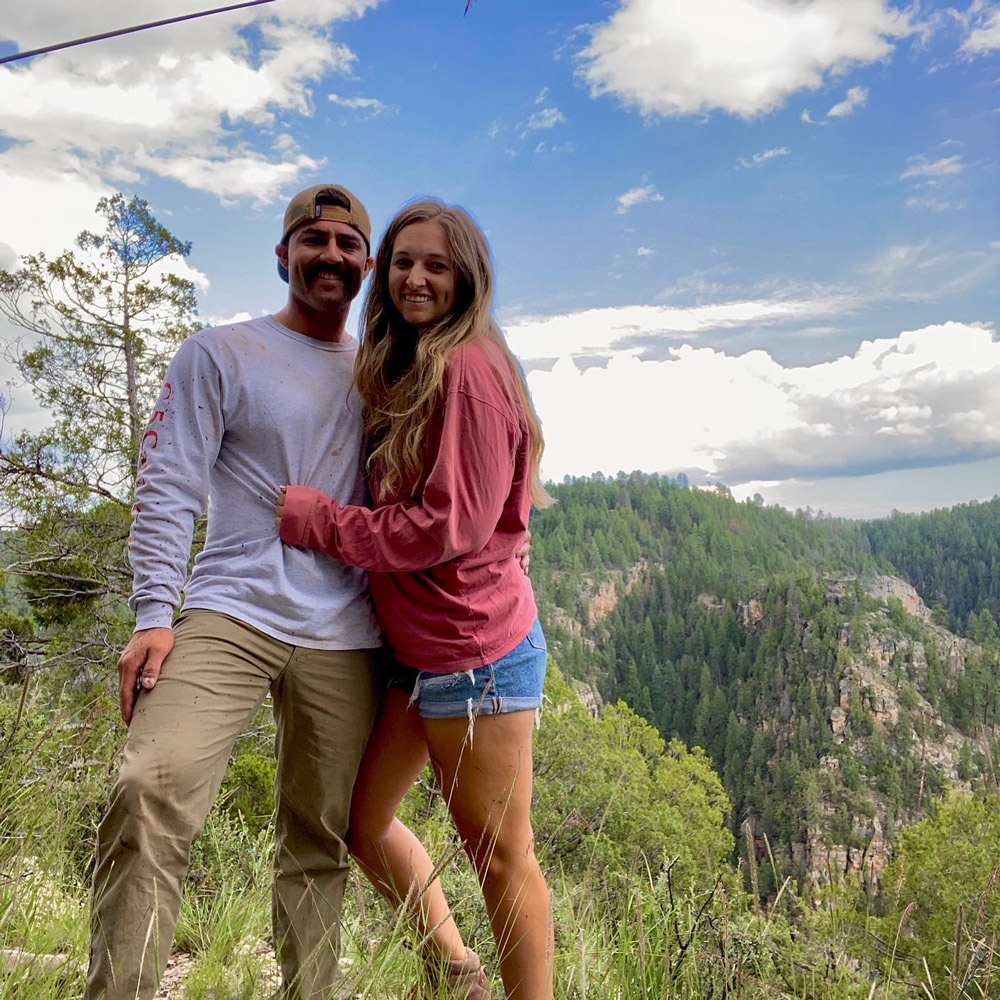 A New Spin on High School Sweethearts
Another perk of teaching, besides keeping Justin busy in his down-time, has been finding one of the most important relationships Justin has in his life: the one with his wife, Lauren. They met in 2016 at Hamilton High School, where Lauren is an English teacher, varsity softball coach and badminton coach. Since then, Justin has even subbed for Lauren.
"She's a fantastic teacher," Justin says. "She's outgoing, just like I am in the classroom. She's got a great attitude. She loves what she does. She works really, really hard at it. She's super-funny, super-smart. She's a top-notch teacher. This is not biased, but if you were to give me a teacher I need to emulate, it would be her, for sure."
Something else Justin and Lauren have in common? She was a college athlete, too. The couple continues to be ultra-competitive. Justin claims he's better at cornhole (one of their early dates), while Lauren wins at badminton and board games.
When they're not in the classroom, the Gilbert residents enjoy taking trips to a family house in Forest Lakes, Arizona, as well as camping with their dog.
It Only Gets Better.
"High school is the best time of your life, but it doesn't have to be. It only gets better."
Despite his packed schedule, Justin says he wouldn't have it any other way. Justin says it's exciting for him and his wife to teach the same students, especially ones who go on to have successful sports careers in college. He's even seen some of his former athletes and students go on to play in the College World Series.
In-between assignments to keep the community safe as an EMT and firefighter, Justin says he enjoys continuing his life in the classroom and on the baseball field. One of the most important messages he tries to share with his students and athletes is the importance of being a kind person, since that's something that's meaningful throughout life and after high school.
"I tell my players, go help when there's a kid in need. Or if you see something bad happen, do the right thing," Justin says. "It's important to be a nice person."
He also tells students they don't have to "peak" in high school. Justin certainly didn't.
"High school is the best time of your life, but it doesn't have to be," Justin says. "It only gets better."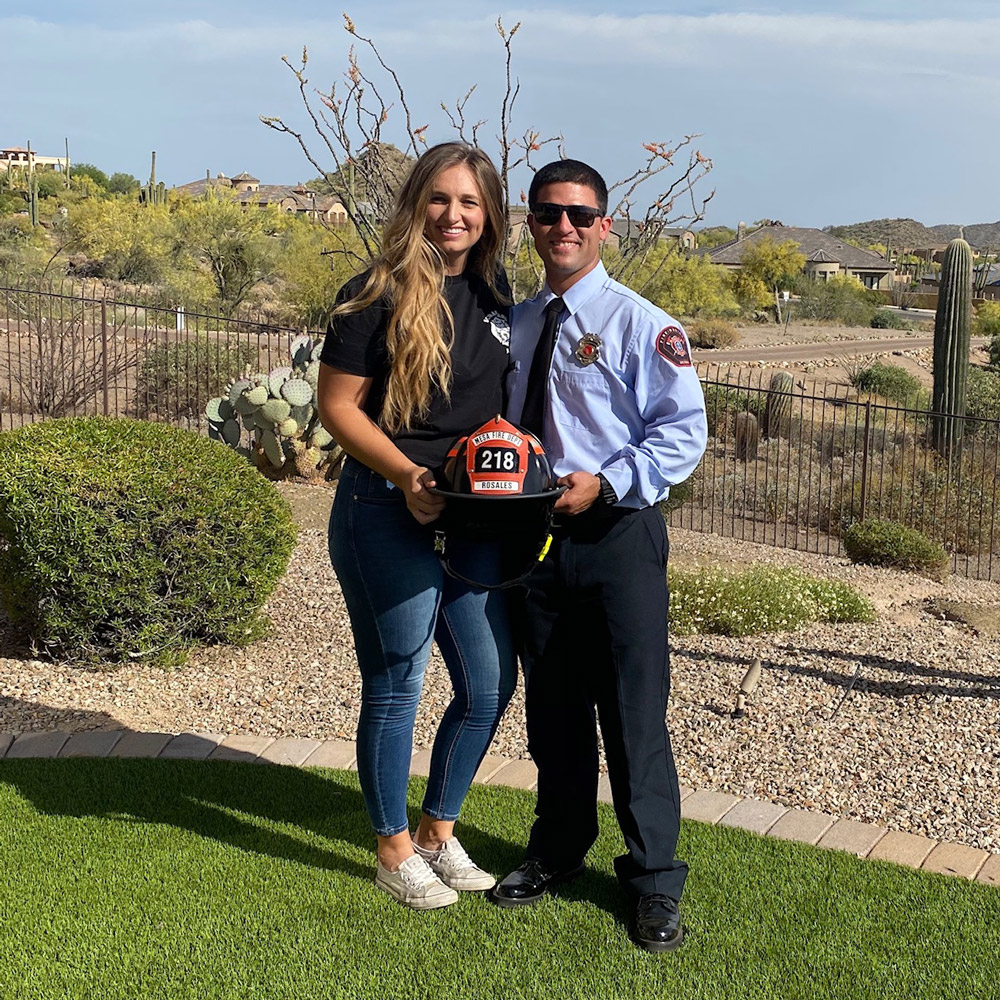 ---
Looking for a full-time substitute position? Educational Services, Inc. (ESI) offers full- time positions with benefit eligibility. Positions are compensated at a daily rate and with the understanding that this is a full-time position with the expectation that an assignment shall be fulfilled on a daily basis, each day school is in session. Apply now!