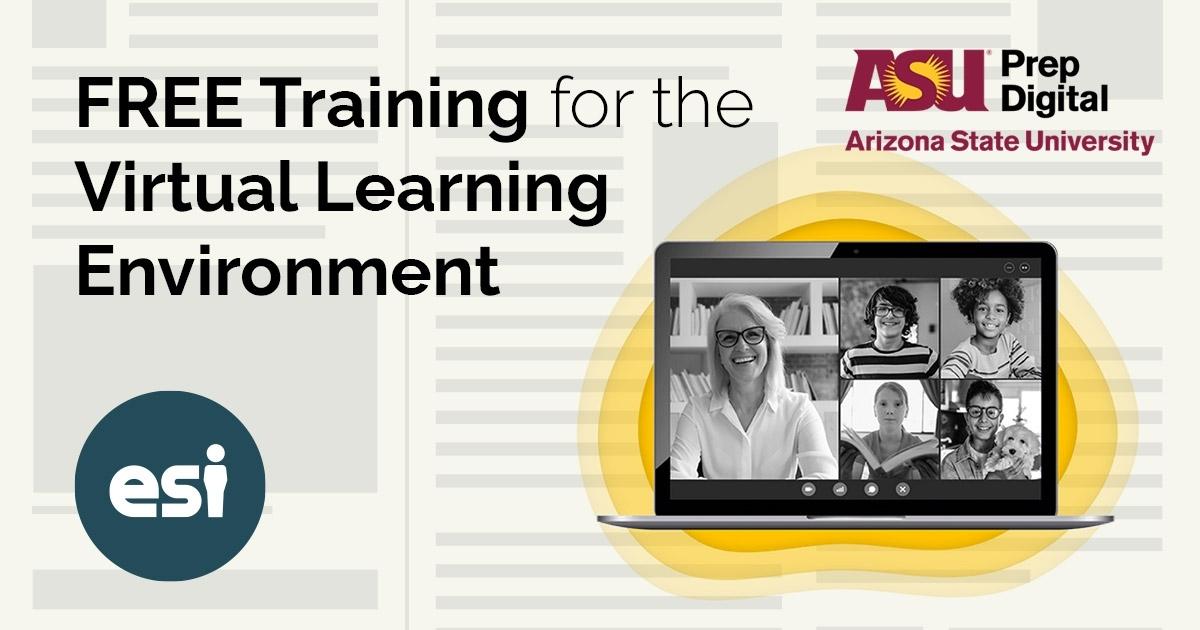 Educational Services Inc (ESI) and Arizona State University's Prep Digital program are proud to announce a professional development program aimed at preparing substitute teachers for the new virtual learning environment. The digital boot camps are broken into three sections that last only an hour each day. They're set to occur on January 5th, 6th, and 7th from 4-5pm, and they are free to attend. Teachers can register here: https://www.asuprepdigital.org/training/
"ESI is grateful for ASU's support during these challenging circumstances for educators" said ESI's Executive Vice President Andy Shirk. "These courses provide just the kind of skills substitutes can use today in any virtual setting."
By attending these trainings, a substitute teacher gains an entire arsenal of virtual teaching tools that they can use on any given day. There's a specific lens focused on elementary, middle, and high school, and what a class period for each of those grades might look like. Whether it's conducting a virtual scavenger hunt, playing Kahoot, or administering a pop quiz, these training sessions will make sure substitutes won't ever be left stranded at the last minute.
The program is part of a grant that was awarded through the Department of Education, the Arizona Governor's Office, the Helios Education Foundation, and of course, ASU. The goal of this grant is to provide free professional development for teachers throughout the state, throughout the entire school year.
Alison Hernandez, Professional Development Manager at ASU Prep Digital worked directly with ESI to custom-build the program from content that was created as part of a greater virtual teaching initiative. The program is meant to provide continual support through sessions that build on each other. "We have great tools and resources we pull the content from. We make sure we have a lens on the needs of a substitute teacher."
About the Sessions
Tuesday, January 5th, 4-5pm
January 5th, the first day, will focus on Google Classroom alone. Substitutes will learn how to navigate Classroom and solve minor problems should they arise.
Wednesday, January 6th, 4-5pm
The second session, taking place on January 6th, will center on increasing your level of comfort with teaching virtually. Many substitutes and full-time teachers alike have never taught on camera before while essentially watching themselves speak, and it can be unnerving. This session will share some of the best practices in navigating this new environment.
Thursday, January 7th, 4-5pm
The last day, January 7th, will provide substitutes with tools. This is the session that's most important for when you arrive with no lesson plan. We provide you with emergency tech tools, resources, and solutions for a day when there's no outline to follow.
There's no obligation to attend all three training sessions. You can attend any number of them that you'd like, depending on what subject matter interests you. What's most important to remember is that this substitute teacher training is offered free of charge; our goal is simply to educate substitute teachers and supply them with the resources they need for teaching in a new (and sometimes intimidating) virtual environment - to not just survive, but thrive.